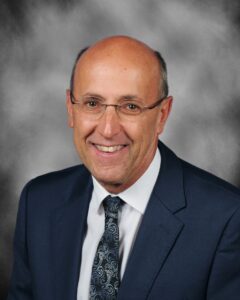 Dr. Batenhorst is in his sixth year as superintendent in the Mount Vernon Community School District, and in his thirty-seventh year in service to youth.  During his career Dr. Batenhorst has also served as a teacher, coach, adolescent mental health therapist, school counselor, assistant principal, principal, assistant superintendent, and adjunct college professor. He has served in schools and districts both large and small, public and private, and has served in small communities and large cities.  Dr. Batenhorst continues to live and lead by the mantra of being "all in for all kids all the time."
Dr. Batenhorst has been married for thirty-five years to his wife, Mary Lou.  Mary Lou is a lifetime educator as well, having taught for thirty-seven years at the high school, college, and middle school level. She is currently teaching English at both Cornell College and Kirkwood Community College. 
The Batenhorst household is completely focused on and run by a ten-pound miniature dachshund named Sadie, who also has the honor of being the cutest puppy in Mount Vernon. 
Recent Superintendent's Blog Posts
School Board News Brief

The regular monthly meeting of the Mount Vernon Community School District School was held on March 8, 2023.  The following topics were addressed during the meetings: Approval Agenda:  The meeting agenda was approved as written with no changes …

School Board News Brief – February 13, 2023

The regular monthly meeting of the Mount Vernon Community School District School was held on February 13, 2023.  The following topics were addressed during the meetings: Approval Agenda:  The meeting agenda was approved as written with no changes …

School Board News Brief – January 9, 2023

The regular monthly meeting of the Mount Vernon Community School District School was held on January 9, 2023.  The following topics were addressed during the meetings: Approval Agenda:  The meeting agenda was approved as written with no changes …