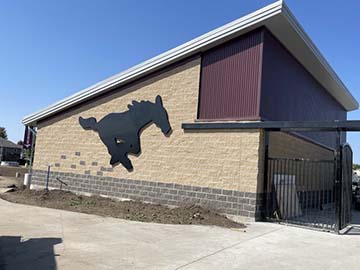 The Mount Vernon Community School District is excited to share that it will host a grand opening for the Martha Parsons and Family Activities Complex on Thursday, September 28, 2023. The evening will begin with the traditional Homecoming parade that will start at 6:00 p.m. at the First Street Field. The parade will head through downtown, through a few neighborhoods, and will end at the high school. A ribbon cutting and grand opening ceremony will begin at 7:00 p.m. at the new complex, followed by the Homecoming Coronation and Powder Puff football game.
If you are planning on attending the grand opening ceremony but not the parade, we encourage you to be parked and in the new complex by 6:30 p.m. to avoid the parade participants. If you are attending the parade and the grand opening activities, please proceed in a timely fashion to the school district campus and follow the directions of those directing traffic.
Here are several helping hints to make the ceremonies enjoyable for everyone:
As stated above, please carefully follow the directions provided by those who are directing traffic.

Please do not park in any areas designated as "No Parking," and please do not park in any areas that are not typically used for parking (e.g., grassy areas on the campus).

If parking in the Stonebrook neighborhood or other adjacent neighborhoods please do not park in designated "No Parking" areas, please do not block driveways, please do not park in driveways without permission from the homeowner, and please do not cross through the yards of homeowners in order to get to the new complex. Please remain on the paths that lead from two different points from the Stonebrook neighborhood to the complex.

Once in and around the complex, please remain out of any areas that have been roped off. These areas will be in the process of being landscaped and need to remain free of pedestrian traffic.

Please do not come onto the track or field unless you have been given permission to do so. Please remain in the areas designated for use by visitors that evening.

Golf carts and ATVs are not allowed on the walking trails in and around the complex.
The first game on the new field will take place on Friday, September 29th. As is tradition, the Mount Vernon Alumni Hall of Fame inductees will be honored at halftime, and the Marching Mustangs will again take the field to perform their fabulous show, Immortal.
We look forward to seeing you at the celebrations on the 28th and 29th!
---